Coaching Challenges Series
AUD $1,452.00
Add to Cart

Synopsis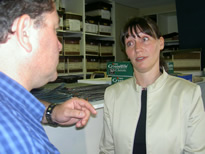 In the real business world, coaching situations spring up all the time. The should be exciting opportunities for feedback, growth, development and improved bottom line results! But often, even with the best preparation and planning, people respond unpredicatably... and these present real life Coaching Challenges!
In this exciting series, see a range of situations where the coach is confronted with a challenge. Watch how they handle them and learn a range of practical tools and techniques. This series is suitable for all coaches, managers and team leaders, team members, mentors... even those who need to coach their managers!
Coaching Challenges is an ideal learning resource for:
Management and leadership development
Performance appraisal/management implementation
Feedback training
Communication skills training
Team building and empowerment
Mentoring
To buy the WHOLE SERIES, click on the shopping cart above (no need to add individual titles to your cart). This series contains the following titles
Can We Talk?
Marie wants to talk to fellow team member Claude about the problems caused by his late deliveries. But how does she st...
More...
So You Agree With Me?
Leon wants to talk to his manager about her leadership style (he, and the other team leaders, think she is too autocra...
More...
What's Really Going On?
Dana has noticed a change in Brad's performance. Previously a star performer, he is doing the minimum necessary. He ag...
More...
Package Description
Four DVDs and a 43 page facilitator's guide.
Recommended Audiences
Distributed in the following format(s)
Available in the following language(s)
Media Type
Video Recording
Featuring
Presentation Style
FILMING LOCATION
Australia
COPYRIGHT OWNER
ClickView
PUBLISHER
Seven Dimensions