Performance Excellence Series
AUD $1,782.00
Add to Cart

Synopsis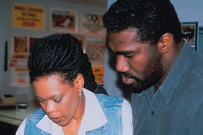 In the same way that athletic coaches help their teams achieve Performance Excellence, workplace coaches need to help team members reach their full potential and be the best they can be.
This six-volume series demonstrates the basic principles of how to effectively coach another person, regardless of whether the person is a staff member, peer, manager or even a customer. It analyses and demonstrates six core coaching skills, which can be used by anyone to ensure teamwork, commitment and the best performance from everyone.
Well-known psychologist and performance management consultant Peter Quarry hosts each video, incorporating dramatic vignettes, to deliver key training points in a wide range of workplace situations.
To buy the WHOLE SERIES, click on the shopping cart above (no need to add individual titles to your cart). This series contains the following titles
Coaching to Build Skills
Discover an effective approach that can be used to build all types of skills, including technical, task-related sk...
More...
Coaching to Clarify Expectations
Coaches need to set high expectations. But people can only perform well at work if they have been told what is expecte...
More...
Coaching to Develop Motivation
Discover why giving advice doesn't always help people to perform better at work. This results-oriented video demonstra...
More...
Coaching to Encourage Flexibility
People need coaching to be flexible and adaptable to all sorts of organisational change, including technological ch...
More...
Coaching to Enhance Confidence
Sometimes people don't perform well because they have low confidence in a particular task. This video shows how...
More...
Package Description
Six DVDs and an 83 page workbook/facilitator's guide.
Recommended Audiences
Distributed in the following format(s)
Available in the following language(s)
Media Type
Video Recording
Featuring
Presentation Style
COPYRIGHT OWNER
ClickView
PUBLISHER
Seven Dimensions