Teaching and Learning Series
AUD $880.00
Add to Cart

Synopsis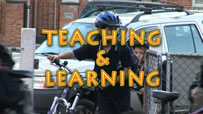 TEACHING & LEARNING is designed for teachers, staff and educators of young children. These programs, filmed on location, feature teachers, students, educators and parents. They provide practical examples and scenarios to ensure best practice in K-6 school level teaching and learning.
Download the Teaching and Learning Flyer

To buy the WHOLE SERIES, click on the shopping cart above (no need to add individual titles to your cart). This series contains the following titles
Effective Schools
Effective schools develop strategies to ensure learning is the key focus and the school is a friendly place. They use ...
More...
Peer Mediation
Four young primary school students are encountering problems in the schoolyard. Peer mediators are assigned to help so...
More...
Teaching Literacy
Learning to read and write can be fun! By identifying individual needs and implementing effective teaching methods, stu...
More...
Recommended Audiences
Primary School Teachers
Students 5 -12
Special School teachers
Parents
Teachers of young children (K1-6)
Teacher training students
Distributed in the following format(s)
Available in the following language(s)
Media Type
Video Recording
Presentation Style
Closed Captions
Yes
FILMING LOCATION
Melbourne
COPYRIGHT OWNER
Seven Dimensions
PUBLISHER
Seven Dimensions